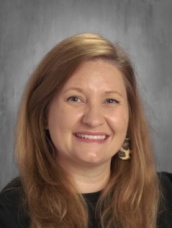 Deanna Porricelli
3rd Grade Team
Hello, Wildcats!
Welcome to 3rd Grade!
Hello! My name is Deanna Porricelli and I will be teaching 3rd grade this year! I grew up in a small town in the mountains of Virginia, but moved to Lakeland to attend Southeastern University. I graduated from SEU and received my Bachelors degree in 2001. I am currently certified to teach Elementary grades K-6 and have both ESOL and Reading Endorsements. I have worked in the school system for over 13 years, as a substitute teacher, full time classroom teacher and as an LEA/ESE facilitator. Teaching is my passion and I truly love this calling! This will be my 3rd year as a full time teacher here at MAC and I am looking forward to another incredible school year! I can't wait to meet you! This will be the best year ever!
Schedule 2022-2023
Lunch- Daily 11:44-12:09
Library- Tues. 10:10-10:50
Music- Wed. 10:10-10:50
Spanish- Th. 10:10-10:50
PE- M,T, W, F 10:55-11:35
Art- Th. 10:55-11:35
Important Dates to Remember:
Important Dates:
Mar. 22: AR Reward Day (free dress day)
Mar. 24: Field Day (new date)
Mar. 28: Report Card Day/Spirit Night
Mar. 31: Yearbook Deadline (to purchase)
Month of April: Titanic Month
Apr. 7: No School (Good Friday)
April 25: Portfolios Go Home
Month of May: Wizard of Oz Month
May 1 or 2: *Tentative Final Reading FAST!
May 3 or 4: *Tentative Final Math FAST!
May 11: 2nd & 3rd Grade Musical
May 16: Portfolios Go Home
May 25: Last Day for Students
Remind App
3rd grade will be using Remind as a source of communication this year. 3rd grade teachers will send reminders via text to all 3rd grade families that have signed up. You may sign up as many phone numbers as you would like. It is beneficial if you sign up both parents as well as the student, if they have a cell phone.
Important Daily Reminders
*Remember that your child may bring two healthy snack choices each day and is encouraged to bring a reusable water bottle daily.
*Our classroom can sometimes get pretty cold, so your child may choose to bring a small blanket to keep in our room. You may want to send them with a jacket/hoodie (MAC or solid navy) each day as well.
*Please make sure you have labeled your child's name on all of their personal items including backpacks, jackets, blankets, water bottles and lunch boxes.
*Don't forget to read at least 20 minutes every day!
Suggested Links
3rd Grade Team