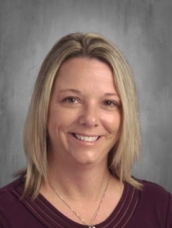 Gretchen Martinez
1st Grade Team
Welcome back Wildcats! I am very excited about teaching 1st grade at McKeel Academy Central this year. This is my 23rd year in the education system. I graduated from The University of Toledo in 1999 with my degree in Speech/Language Therapy. Over the years I've had many amazing experiences teaching ages from 3-11. Teaching is my passion. My main goal is to grant every student success on their own educational path! Teaching students to read and watching them grow as readers is very exciting and rewarding to me. This year I plan to make our learning environment fun, engaging and student centered. I can't wait to start this year with your child! I am excited about the memories and learning we will be endeavoring throughout the school year.
Class Schedule
Martinez Schedule 2022-2023
8:00-8:25 Arrival/Morning Choice
8:30-9:10 MAC TIME
9:10-9:25 Phonemic Awareness
9:25-10:05 PE: M,T,TH,F; ART: W
10:10-10:50 ELA (Whole Group)
10:56-11:21 LUNCH
11:25-11:40 Phonics First
11:40-11:55 Mentor Writing
11:55-12:45 Math
12:45-1:25 MT: Writing; W: Library; TH: Spanish; F: Music
1:30-1:45 Snack and Read Aloud
1:45-2:30 Science/Social Studies
2:30-2:45 RECESS
2:45-3:00 Clean Up/Pack up
3:00-3:15 Dismissal
ATTACHMENTS
What Are We Learning?
Reading:
Writing:
Math:
Social Studies:
Science:
Phonics:
What Should We Work on at Home?


Read for 10-15 minutes every night Monday through Thursday. You can read to someone, with someone, or listen to someone read. You can read a book, a magazine, on an iPad, however you choose... just LOVE it!
High Frequency Words (HFW) for this week:
(Students will need to practice reading all the words. Students will need to practice both reading and spelling for the red words. )
Important Dates


Tuesday, August 2, 2022- Student Orientation
Thursday, August 4, 2022- First Day of School
Friday, August 5, 2022- House Day! Go Eheys!
Thursday, August 18, 2022- PTO Spirit Night at Beef 'O' Brady's (North and South)
Wednesday, August 31, 2022- Fall Pictures
Monday, September 2, 2022- No school
Monday, September 5, 2022- No school Students/Staff (Labor Day)
Thursday, September 15, 2022- PTO Spirit Night at Pelican Snowballs (Lakeland)
Friday, October 7, 2022- End of 1st Grading Period
Monday, October 17, 2022- No school
Monday, October 24, 2022- Report Cards
Wednesday, October 25, 2022- PTO Spirit Night at Skateworld
Thursday, November 17, 2022- PTO Spirit Night at PDQ
Friday, November 18, 2022 Friday - Friday, November 18-25, 2022- Fall Break
Friday, December 16, 2022- End of 2nd Grading Period
Monday, December 19, 2022 - Wednesday, January 4, 2023- Winter Break
Thursday, January 5, 2023- Students return to school from winter break.
Thursday, January 12, 2023- Report Cards
Monday, January 16, 2023- No school (Dr. Martin Luther King, Jr. Day)
Friday, February 17, 2023- No school
Monday, February 20, 2023- No school (President's Day)
Friday, March 10, 2023- End of 3rd Grading Period
Monday - Friday, March 13-17, 2023- Spring Break
Tuesday, March 28, 2023- Report Cards
Friday, April 7, 2023- No school
Thursday, April 20, 2023- PTO Spirit Night at Dairy Queen (North)
Thursday, May 18, 2023- PTO Spirit Night at Defy
Thursday, May 25, 2023- Last Day for Students
Suggested Links
Important Files
1st Grade Team