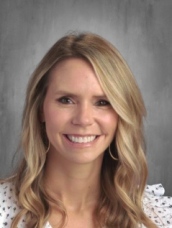 Jessica Neuman
5th Grade Team
Welcome back, Wildcats! I am so excited to be teaching 5th grade science this year! Originally, I am from New Jersey but I moved to Florida for college. I graduated from Southeastern University with my Bachelors in Secondary Biology Education in 2005. I am certified in K-6 grade Elementary Education as well as 6-12th grade Biology. This is my third year teaching, but my sixth year at MAC. Previously, I was the K/1st grade para, the 2nd/3rd grade para, the P.E. para and taught 6th grade science! I have thoroughly enjoyed working with all grade levels of students in different capacities. I am looking forward to an exciting and fun school year, as we explore SCIENCE!
21-22 Announcements/Dates
August
3 - Orientation (4:00 - 4:45 A-L) (5:15 - 6:00 M-Z)
5 - First day of School
September
1 - Fall Pictures (wear uniform)
6 - No School/Labor Day
13 - No School/Teacher Work Day
October
8 - End of 1st nine weeks/AR goal due
18 - No School
27 - Skate Night 6-8 pm
November
19 -26 - Thanksgiving Break
December
13 - BizTown field trip
17 - End of 2nd nine weeks/AR Goal due
17 - Last day of school before winter break
January
4 - Students return
17 - No School/MLK day
February
18 - No School/President's Day
March
10 - End of 3rd nine weeks/AR Goal due
21-25 - Spring Break
April
15 - No School
18 - No School
May
25 - Last Day of School
21-22 Supplies for 5th Grade
5 plastic folders with brads and pockets, one of each color: green, blue, red, yellow, orange (Please label folder colors as follows: Blue- Social Studies, Yellow- Language Arts, Red- Math, Green- Science, Orange - MAC time)
2 packs of wide ruled notebook paper

1 composition notebook (not spiral)

1 pack of cap erasers or pink eraser

1 large pencil pouch (label with name)

2 packs of #2 pencils

2 glue sticks

1 pack of skinny markers 8 ct

4 highlighters-1 of each color: orange, yellow, blue, pink

1 pack of colored pencils 12 ct

1 pair of earbuds/headphones for your child's personal use

1 box of tissues

1 container of Clorox wipes

Boys: 1 box of sandwich size Ziploc bags
Girls: 1 roll of paper towels
Wish List Items:
Clorox wipes, 3X3 post it notes, Expo markers
Amazon Wish List: Mrs. Neuman's Wish List
Sign up for 5th grade REMIND messages!!
We will use Remind as a source of communication this year. 5th grade teachers will send reminders via text to all 5th grade students and parents that sign up. You may sign up as many phone numbers as you would like. It is beneficial if you sign up both parents as well as the student, if they have a cell phone. Send a text to the number below and include the message listed below to sign up!
To: (772) 361-6452
Message: @macgrade5
Suggested Links
Important Files
5th Grade Team